Check out my newest Roseville price guide now available in ebook format at Amazon.com. Great for the kindle, ipad and iphone and can be downloaded for use on your computer.
Click here Roseville Pottery values and identifications
or go to Real Price Guides Home page. RealPriceGuides for more information.
Banks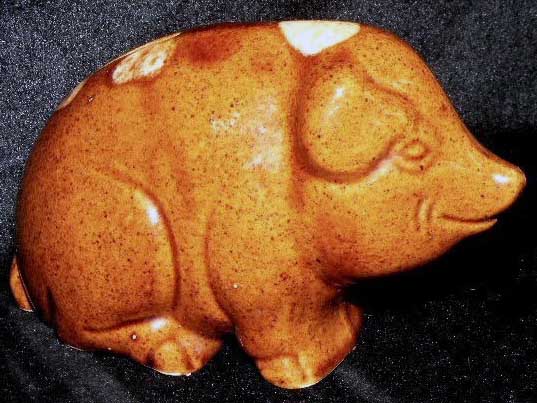 Roseville Pottery make a lot of novelty products in the early 1900s including banks that included pigs, eagles dogs and other
figures. All were of poor quality and were meant to be filled up and broken to get the money out by children, therefore not many remain.
Still value remains relatively low from 20 to 100 dollars for the majority with a few rarities such as the eagle.
| | |
| --- | --- |
| Description | Value |
| Pig sitting | 25-50 |
| Pig Standing | 50-125 |
| Head Uncle Sam | 100-150 |
| Buffalo | 75-100 |
| Eagle | 200-300 |
| Dog | 25-50 |
| Cat | 25-50 |
| Beehive | 35-55 |
| Monkey | 125-175 |